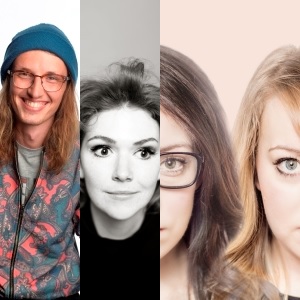 ANDY FIELD, ELF LYONS and FLO AND JOAN
Tuesday 27th March
The Coach House, Kings Arms,
King Street, Tring. HP23 6BE.
Show starts 7.30pm (Doors 7pm)

TICKETS £12 - SOLD OUT

The Tringe Aperitif continues with this fabulous line up with three firm Tring favourites. Andy Field will be offering his quirky humour, Elf Lyons is appearing fresh from her Edinburgh nominated show, and the evening will finish off with the brilliant Flo and Joan, one of the most popular acts of 2017. A stunning line up of acts all testing their new shows in the most intimate of settings at the Coach House.
Come early and have a meal in the Kings Arms - Call 01442 823318 and tell them you're coming to the comedy.
ELF LYONS: ChiffChaff
The Edinburgh Comedy Award Nominee (Best Show 2017) presents her one woman musical about the economy.
You read that right. Let's get fiscal. The queen of clown is back and she's making the dismal science fun with a whole orchestra and an Invisible Hand.  Why? Why not?
BBC New Talent Hotlist 2017
Malcolm Hardee Award Nominee 2017?
British Vogue's '20 Names of Now'
"A fast talking, smart-thinking standup for whom the adjective "kooky" could have been invented for." The Guardian
"Hysterical tour de force" ***** Three Weeks
"A fantastic comedic success" **** Fest?
**** The Scotsman
FLO AND JOAN
'If Flanders & Swann and Flight of the Conchords and Garfunkel & Oates had a six-way time-travelling gang-bang that somehow mixed all their DNA, the offspring might end up sounding something like Flo and Joan' (Chortle).
Following a sold-out run at the Edinburgh Fringe Festival 2017, musical comedy sisters Flo & Joan are preparing for their return with a collection of new songs.
ANDY FIELD
Winner of the Chortle Student Comedy Award 2015, Andy has made an impact on the comedy scene with his unique style and fresh approach to traditional stand up.
Andy returned to Edinburgh in 2017 with a brand new hour of sketch meets stand up, The Andy Field Experience, which garnered numerous 4 and 5 star reviews. Later this year he will be releasing a six-part podcast for BBC Radio 1.
A regular at festivals such as Latitude, Bestival, Leefest and Secret Garden Party, Andy is fast becoming a familiar face at top comedy clubs around the country. He has hosted his own webseries in the Tub, in which he interviewed up-and-coming bands in the bath (of course). He has a Masters in Creative Writing from Brunel.
***** Voice Mag – "Completely brilliant, classless humour."  
**** Edinburgh Festivals – "For an hour of hilarious escapism, look no further."
**** Fest Mag – "Stellar puns, great one liners."  
**** The Skinny – "A great show for an escape to the surreal, and laughing without always knowing or caring quite why."  
"He has a surreal outlook, a set packed full of proper punchlines and a nerdy glee in sharing it." – Steve Bennett, Chortle