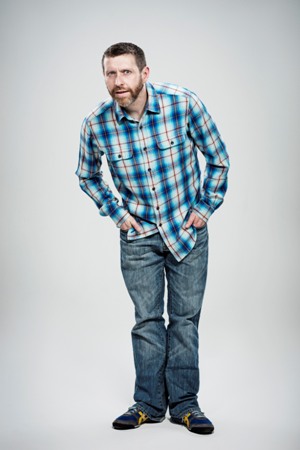 Dave Gorman Gets Straight To The Point*
(*The Powerpoint)
Wednesday 1st October
The Court Theatre, Tring
Tickets £15
Following his outstanding 3-night sell out appearance in Tring in 2013, Dave Gorman is returning to perform his last warm up show before going out on tour across the UK.
The wonderfully innovative comedy mind behind Modern Life Is Goodish (Dave TV), Are You Dave Gorman? and Googlewhack Adventure is back with a brand new live show that promises more of his unique blend of stand-up comedy and visual story-telling as Dave Gorman Gets Straight To The Point*... (*The PowerPoint).
Yes. That's right. It's a PowerPoint presentation. We know what you're thinking. But don't worry… as this all-new show follows the phenomenal success of his critically-acclaimed UK Tour, Dave Gorman's Powerpoint Presentation, which included a sold-out 5-night run at London's Southbank Centre, we think you're in pretty safe (and funny) hands. You won't need to take notes and you almost certainly won't be tested on it later.
Tickets for this event are no longer available to buy.
'…has transformed the seemingly mundane into hours of unabashed hysteria.'
Metro

'Gorman was doing this before anyone else, and still does it better'
The Guardian

'Superbly structured, packed with precision-tooled punchlines, twists and visual gags'
London Evening Standard