THE MIGHTY KIDS BEATBOX COMEDY SHOW STRIKES BACK!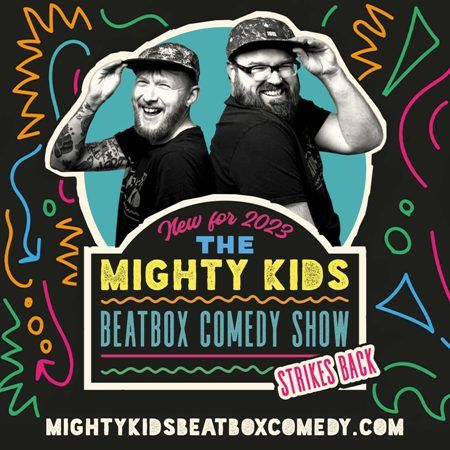 Date
Thursday 6th July 2023
Time
4:30 PM
Doors Open
4:00 PM
Venue
The Court Theatre
Nominated for 'Best Kids Show' - Leicester Comedy Festival 2023
As recommended in The Week Junior
Featuring Award-Winning Comedian, winner of Chortle's 'Best Compere' Award and Star of CBBC's 'The Joke Machine' and 'The Dog Ate My Homework Jarred Christmas & Member of World Champion Beatbox Crew 'The Beatbox Collective', Voice of Juke on Cartoon Network's 'The Amazing World of Gumball' and Current 2 x UK Loopstation Champion Jack "Hobbit" Hobbs
AGES - 5 to 11
Hey kids and kidults, cool cats, and dancing dogs, Jarred and Hobbit are back with an all-new action-packed beatboxing and comedy hoopla! Guaranteed LOL's and interactive fun for the entire family (ok, maybe NOT the cats and dogs!).
Unabandoned joyous fun! World-class beatboxing! Hilarious jokes! Masterful banter!
Loads of Tomfoolery, Katefoolery and whatever your name is foolery. Roofs will be raised and rabbles will be roused! All expertly guided by the best beatbox comedy combo around.
An inclusive show for wallflowers and show-offs alike; throw some shapes, shake your booty, or keep it firmly in your seat…just get on down and enjoy the party atmosphere. It's a whole heap of infectious, doozy fun!
What more can we say? It's the bee's knees. The ant's pants. The snake's hips.
The monkey's eyebrows. The dog's…. (again, let's leave the dogs out of it).
All this and so much more!