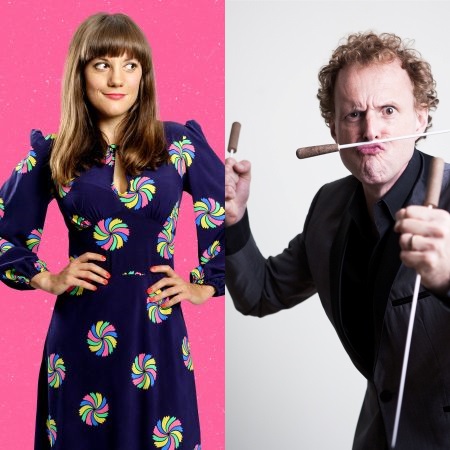 VIKKI STONE AND RAINER HERSCH AND THE TRINGE PHILHARMONIC
Saturday 20th July
Start 7.30pm (Doors 6.45pm)
The Court Theatre
Tickets £20 (Unallocated Seats)
Please note - most performances are previews/warm ups. Acts may be using notes during their show.
Our last night of the 2019 Tringe Festival is the most ambitious gig we have ever hosted. The musical genius of Rainer Hersch, supported by our own orchestra - the Tringe Philharmonic (made up of musicians from the BBC Symphony Orchestra and Covent Garden Opera House - and all who live within 15 minutes of Tring!!). The wonderful Vikki Stone, the 'Lovechild of Victoria Wood and Tim Minchin' will have you crying with laughter. An amazing night to finish this years Tringe Festival.
---
TRINGE FESTIVAL PASSPORT
The Tringe Festival Passport is a season ticket to every night at the Court Theatre. 3-weeks of comedy! It's a wonderful opportunity to see so much great comedy for the one-off bargain price. Please note, there is a seat at every gig for every passport. Your passport must be used as much as possible. The Passport can be shared amongst friends/family/colleagues.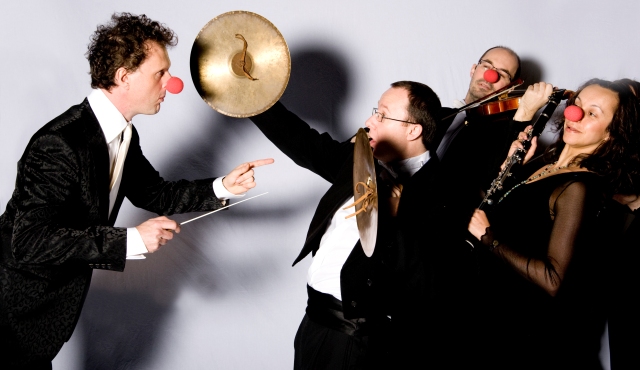 RAINER HERSCH ORKESTRA
Classic Greats, Comedy Gold
Stand-job comedian, conductor and all round musical genius Rainer Hersch comes to Tring accompanied by the most magnificent comic device ever seen – his very own 9-piece mini Orkestra of madcap virtuosos.  Expect an evening of laughter and great music making, everything from Tchaikovsky to Titanic.  Yes, it's a concert Jim but not as you know it and whether you are a professor of harmony or couldn't tell a string quartet from a string vest, this is "a guaranteed laugh every four bars" Scotsman.
"The funniest concert you will ever see"
Time Out
"After seeing this show you'll find yourself gleefully clapping in the wrong place, creating symphonies of coughs and providing mobile phone counterpoints to the Great Masterworks – the concert hall won't be the same again" Tom Service, The Scotsman
***** "An Anglo-Tuetonic blend of English self-deprecation and Germanic highbrow virtuosity"
The Guardian
***** "You'll never see another show quite like this"
Edinburgh Evening News
"Gerard Hoffnung meets Victor Borge with some cheeky stand-up humour thrown in for good measure"
The Times
"Most parodies are only funny if the parodist knows what they're on about, and cares about it too – and this comic maestro qualifies on both counts."
The Guardian
Vikki Stone: Song Bird
Multi award-winning comedian and musician Vikki Stone returns to the Edinburgh Festival with a new show of her trademark comedy songs and stand up. Whilst in previews Song Bird has won Best Musical Show at the 2019 Leicester Comedy Festival Awards.
As seen and heard on BBC Radio 4's The Now Show, BBC One's John Bishop Show and the BBC Proms Podcast.
'Musical comedy genius' Absolute Radio
'Lovechild of Victoria Wood and Tim Minchin' The Scotsman
'The audience were almost crying with laughter' The Guardian
**** The Scotsman
**** Three Weeks
**** Sunday Herald
**** Broadway Baby
---
Line up subject to change. We will endeavour to replace acts on a like-for-like basis. In the event of a line up change, you will be offered the option to either reconfirm your order for the altered event, to exchange to a different event or to take a credit note for a future event. Due to the preview nature of the event, refunds will not be available.