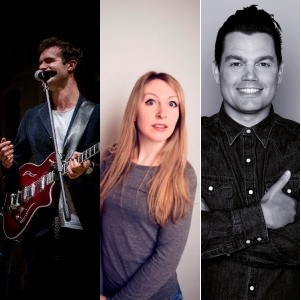 Harry and Chris, Jenny Collier and Charlie Baker
Wednesday 8th March
The Coach House, Kings Arms, Kings Street, Tring
Start 7.30pm (Doors 7.00pm)
Tickets £10
Tringe Aperitif Festival Passport £65
Unlimited access to the whole Festival - 14 Nights, 42 Acts, 1000's of Jokes.
Ticket Update
JUST 6 TICKETS LEFT
---
Tickets for this event are no longer available to buy.
Tickets for this event are no longer available to buy.
Charlie Baker
Charlie's instant likeability and charming delivery style has earned him a reputation as 'a superior take on the modern showman' (The Guardian). He is a popular face on TV panels shows having appeared as team captain on A Short History Of Everything Else (Channel 4), two series of Never Mind the Buzzcocks (BBC2), Rob Brydon's Christmas Special (BBC1), Edinburgh Comedy Fest Live 2012 & 2013 (BBC3) and The Comedy Store (Comedy Central).
Charlie Baker's versatile talent as a stand-up comedian and highly acclaimed jazz-singer and actor saw his critically acclaimed show Baker's Dozen have a sell-out run the Edinburgh Festival this summer. Due to its success he will be touring the show this autumn throughout the UK.
Jenny Collier
Jenny moved from the Welsh mountains to the Big Smoke in 2010 and has since embarked upon a career in stand up comedy. Highlight: Appearing on a BBC Radio Wales panel show with Jo Brand. Low point: After a gig, an audience member saying 'You should be a stripper' (Both secretly highlights).
She has written for BBC Radio 4's The News Quiz, Huffington Post and Glamour Magazine and has traveled (parts of) the world with her comedy. She has performed in Hong Kong, Philippines, Singapore, Switzerland and most recently in Australia where she won the Percy Award for most tickets sold in 'The Imaginarium', (over 1900 tickets) during the Adelaide Fringe.
In August 2016 she performed her debut hour at the Edinburgh Fringe, 'Jen-Hur' which received reviews such as '***** An Excellent comedic work' - Edfest Mag and '**** A brilliant show and well worth a watch' - Arts Award Voice
Harry and Chris
Remember when you discovered Ryan Gosling and Justin Timberlake were childhood friends? That's exactly how Harry and Chris felt when they first crossed paths at school. After playing with each other for 10 years they've decided to pull their fingers out and put on a show.
Voted Best Spoken Word Show (2015) and World Poetry Slam champion, Ryan Gosling lookalike Harry Baker, 'blistering wordplay' ***** (ThreeWeeks), comes to Tring alongside BFF and jazz musician/Justin Timberlake lookalike Chris Read, 'brilliant' (Evening Standard), bringing music, words, love, laughter and more onstage chemistry than a science expo.