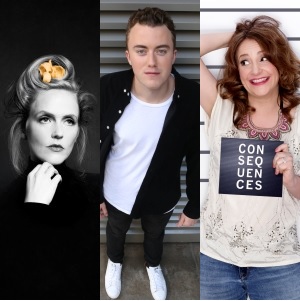 Pippa Evans, Tom Lucy and Lucy Porter
Sunday 26th March
The Coach House, Kings Arms, Kings Street, Tring
Start 7.30pm (Doors 7.00pm)
Tickets £10
Tringe Aperitif Festival Passport £65
Unlimited access to the whole Festival - 14 Nights, 42 Acts, 1000's of Jokes.
SOLD OUT
---
Lucy Porter
Lucy has been a huge hit with comedy audiences up and down the country for over ten years with her distinctive, bouncy, feel-good comedy. She has continued to travel internationally with her stand-up - taking in the Far East & including shows in Hong Kong, Bangkok, Macau, Manila, Switzerland and Paris. She was also invited to Miami to take part in NBC's Last Comic Standing and has performed in the States for NBC and HBO at their Las Vegas Comedy Festival. She's also regularly invited to festivals closer to home including Manchester, Glasgow and the prestigious Kilkenny festival, as well as other mud-soaked scrums such as Latitude.
As a writer and performer, Lucy has contributed to panel and sketch shows on BBC Radio 2 and BBC Radio 4.
Lucy is a regular face and voice on TV. She won the title of Celebrity Mastermind Champion 2009, in a special edition of the show for Children in Need. Lucy fended off stiff competition from Mark Watson and Dave Spikey and broke records by achieving the highest ever celebrity score. She has also appeared on Mock the Week, Argumental, and Have I got News for You.
You may have also seen her alongside Ed Byrne providing pointless answer after pointless answer on a Celeb special of BBC One's Pointless
Tom Lucy
At 19 years old, Tom Lucy is one of the youngest professional comedians in the UK and one of the most exciting new talents on the circuit.
Having won the prestigious Leicester Mercury Comedian Of The Year 2016 and The Comedy Store King Gong 2014 you'll need to catch this young talent while you can.
Tom's first stand up gig was at the tender age of 16, he now performs regularly for some of the UK's top clubs including The Glee Club, Komedia and Up The Creek. He is also the youngest comedian ever to perform professionally at the London Comedy Store.
In 2015 Tom flew to New York to perform at the city's famous comedy clubs such as The Comedy Cellar. Following that, Tom toured Ireland with comedian Al Porter.
In the last six months, he has supported some of the UK's leading comedians on tour including Jack Whitehall, Russell Howard, John Bishop, Paul Chowdhry, Seann Walsh, Russell Kane, Harry Hill and Simon Amstell.


Pippa Evans
A multi-talented and incredibly versatile performer, Pippa has taken 6 shows to the Edinburgh Fringe, bagging a nomination for Best Newcomer in 2008 for debut show Pippa Evans and Other Lonely People. Since then she has gone from strength to strength, performing regularly on BBC Radio 4 institution The Now Show as well as making guest appearances on hit TV shows such as Dave's Alan Davies: As Yet Untitled and Comedy Central's Drunk History. She has also featured on BBC3's sketch comedy show Live At The Electric and was one of the regular cast members on BBC2's comedy impro series Fast and Loose.
Following her Edinburgh Comedy Award nomination in 2008, 2010 saw Pippa unleash her alter-ego Loretta Maine, a sexy and psychotic American country and western singer-songwriter, for a full show of her own, Loretta Maine: I'm Not Drunk I Just Need To Talk To You. In 2012 Pippa took Loretta Maine: Bipolar to the Fringe, garnering a slew of 4 and 5 star reviews and playing to packed houses throughout the festival month. The show was also invited to the Soho Theatre in London for a five night run in Spring 2013, before Pippa jetted off to Australia to make her debut at the Melbourne Comedy Festival.
Pippa returned to the Fringe in 2014 with two new shows. She performed Loretta Maine: Strong Independent Woman (Unless I Am Very Tired), which was nominated for the Amused Moose Laughter Award, and also starred in Pippa Evans: Don't Worry, I Don't Know Who I Am Either on the Free Fringe. Both were brilliantly received by critics and audiences alike. She returned to the Fringe in 2015 as herself with a full run of packed houses of the Leicester Comedy Festival Best show nominated There Are No Guilty Pleasures, shortly after making her debut at the prestigious Just For Laughs Comedy Festival in Montreal in July. August 2016 saw Pippa return to the Fringe with new show Same Same But Different, playing to packed houses across the month and bagging her second nomination for the Amused Moose Comedy Award in the process. The show will be at Soho Theatre for a run of dates in 2017.
Pippa is also a core member of The Showstoppers, the Olivier award-winning group who improvise a new musical based on audience suggestions.  Pippa has performed with The Showstoppers across the UK and the world, including West End residencies and a six part series for Radio 4. The show is currently midway through a run at the prestigious Lyric theatre in the West End following a successful stint at the Apollo. Pippa frequently guests at different improv nights across London and is a semi-regular cast member of The Comedy Store Players.