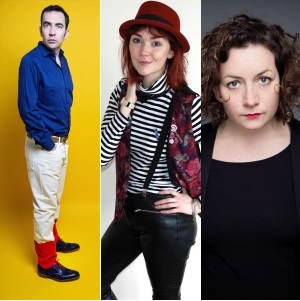 Stephen Carlin, Elf Lyons and Jess Fostekew
Monday 20th March
The Coach House, Kings Arms, Kings Street, Tring
Start 7.30pm (Doors 7.00pm)
Tickets £10
Tringe Aperitif Festival Passport £65
Unlimited access to the whole Festival - 14 Nights, 42 Acts, 1000's of Jokes.
---
Tickets for this event are no longer available to buy.
Tickets for this event are no longer available to buy.
Stephen Carlin
Carlin has earned critical acclaim, accolades and a growing fan base with his original and insightful writing style and accomplished delivery. An enigmatic act, Stephen uses a unique pattern of delivery to amuse the audience with unexpected and off-the-wall references. From his sartorial elegance to his in-depth and hilarious knowledge of international snooker, Carlin's performance takes the audience into the mind of a passionate obsessive.
This man is well on his way to become Scotland's newest addition to its history of brilliant comedians. He was also named by Stewart Lee as one of the Ten Best Comedians in the World Ever. Stephen co-created and co-wrote the new BBC Radio 4 show The Headset Set.
Jess Fostekew
Jessica has been performing improvised comedy and working as a comedy actress since 2005. In January 2008 she hit the UK stand up circuit like a thunderbolt of joy and was a finalist in the Funny Women's Awards 2010.

She had a very successful one woman show 'Luxury Tramp', which ran at the Brighton Fringe. A review of her show concluded that she is clever, silly and most importantly funny and that she can hold her own with any other stand up, male or female.

'Fostekew is a hugely engaging presence and there's something reassuringly honest about her... Consistently hilarious' (Fest)
'Great fun' (Guardian).
Elf Lyons
Elf Lyons is doing a new show. Brand new show. It's so new - anything could be in it.  And it's going to be BIG. Inspired around the idea of creating something out of nothing - Elf wants to create the best full scale budget production of Swan Lake (the ballet) ever. In one hour. Involving one performer and some props. Using anything and everything in the space on the day to create it. And it might be in French. Or German. Or Russian. Elf hasn't made her mind up yet. But who knows - it's a new show after all. A new show from one of British Vogue's 'Top Twenty Names of Now'

"Lyons is in turn endearingly awkward, sexually frank and delightfully silly" THE LIST ****
"A stand-out Fringe show from a vibrant and energetic performer […] An hour packed full of sexiness, nerdiness and amusingly awful attempts at different accents" The Skinny
"Lyons is endearingly eccentric on so many levels. She has a knack for fostering the desire to be her new best friend." FEST Magazine
YOUNG PERSPECTIVE *****
SHORTCOM ****
ARTS AWARD VOICE ****