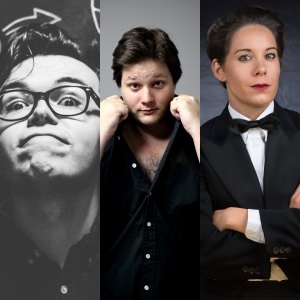 CHRISTOPHER MACARTHUR-BOYD, SAM RUSSELL AND SUZI RUFFELL
Tuesday 20th March
The Coach House, Kings Arms,
King Street, Tring. HP23 6BE.
Show starts 7.30pm (Doors 7pm)
TICKETS £12


The Tringe Aperitif continues with another fabulous line of great comedians. Tring favourite, Suzi Ruffell is joined by a couple of young up-and-coming comedians, Sam Russell and Christopher MacArthur-Boyd. A stunning line up of acts all testing their new shows in the most intimate of settings at the Coach House.
Come early and have a meal in the Kings Arms - Call 01442 823318 and tell them you're coming to the comedy.
Tickets for this event are no longer available to buy.
CHRISTOPHER MACARTHUR-BOYD: REASONS TO LIVE
An hour of stand-up from someone who doesn't want to kill themselves anymore!
"A comedian on the ascent. The personal and political housed seamlessly." (The Skinny)
"A comedy nerd's informed tweaking of stand-up convention." (Chortle)
Three-time Scottish Comedian of the Year finalist. As heard on BBC Radio 1 and 4extra.


SAM RUSSELL: LUCKY BASTARD
Married to a corporate lawyer, owner of a pitch perfect Elmo impression and being the very definition of straight, white, male privilege…Sam is one lucky bastard… and he feels very guilty about that. 
Lucky Bastard is the hilarious debut stand-up show from fast-rising comedy talent Sam Russell. 
A talented young stand-up already making his mark with his upbeat optimistic comedy, regularly gigging at clubs both in the UK and Europe. 
Sam is also resident MC with the award-winning Angel Comedy in London and a gifted improviser - he co-founded the Time Out recommended Improv Group shoot from the hip, who perform 3 times a week to sell-out crowds at Up the Creek, Top Secret Comedy and Angel Comedy Club.  They were recently won 'Best Improvised Comedy Act 2017' in the Whats On London awards.
SUZI RUFFELL
Suzi is heading back to the Edinburgh Fringe with a brand new show!
Her last show was a complete sell out, got heaps of great reviews and was recommended by The British Comedy Guide, The Scotsman and The Sunday Times.
It is important to remember that this is a work in progress show - so it might not be that good - but it will have moments which you'll really enjoy! As seen on BBC, Channel 4, ITV, Dave, Comedy Central and the 249 bus to East London where she lives. She also has a cat - she may discuss this.