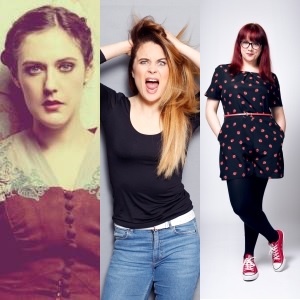 GRAINNE MAGUIRE, JOANNE McNALLY and ANGELA BARNES
Sunday 25th March
The Coach House, Kings Arms,
King Street, Tring. HP23 6BE.
Show starts 7.30pm (Doors 7pm)

TICKETS £12 *8 Tickets Left*


The Tringe Aperitif continues with this fabulous line up including Tring favourites Grainne Maguire and Angela Barnes. They are joined by Joanne McNally, a much talked about new comic on the circuit. A stunning line up of acts all testing their new shows in the most intimate of settings at the Coach House.
Come early and have a meal in the Kings Arms - Call 01442 823318 and tell them you're coming to the comedy.
Tickets for this event are no longer available to buy.
Gráinne Maguire
Gráinne Maguire is a stand up comedian, comedy writer and actor.
She has performed at Edinburgh Fringe Festival in 2010 with her show "We Need to Talk About Bonnets", 2012 with "Where Are All the Fun Places and Are Lots of People There Having More Fun?" 2013 with "Gráinne Maguire's One Hour All Night Election Show" 2016 with "Gráinne Maguire; Great People Making Great Choices" and 2017 with "Gráinne with a Fada".
As a comedian she has appeared on BBC1's "Question Time", "Daily Politics", ITV1's "Agenda", Radio 4's "The Now Show" "Front Row" and "Women's Hour".
She has written for Channel Four's "Alternative Election Night", "8 Out of 10 Cats", "The Last Leg" and Radio 4's "News Quiz", "Ayres on Air", "Listomania" "Dead Ringers", "Dilemma", "The Now Show" and "NewsJack".
She recently took to Twitter to live-tweet her menstrual cycle to Taoiseach Enda Kenny in protest of Ireland's abortion laws; it provoked a global response and was covered in the Guardian, the Independent and the Irish Times.
JOANNE MCNALLY: WINE TAMER
Heralded by the Irish Times as 'one of the most exciting things to happen to Irish comedy in years' and 'Joyously nuts' by the Irish Examiner, Joanne McNally already has a slew of TV credits to her name.
As seen on the Late Late Show and the Commute for RTÉ. Join this energetic and hilarious performer for a brand-new hour of no-holds-barred stand up comedy.
ANGELA BARNES
BBC New Comedy Award winner Angela Barnes returns with a Work in Progress of her brand-new hour of jokes.
As seen on Live At The Apollo, a regular on Mock The Week and host of BBC Radio 4's Newsjack, Angela has also appeared on R4's News Quiz, and sold out her run at the Edinburgh Fringe in 2017.
"She's just a gloriously down-to-earth, straight talking and extremely funny comic" The Guardian