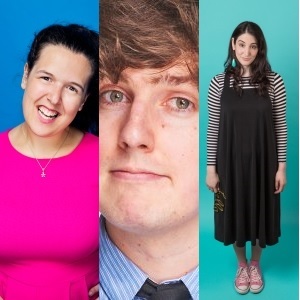 ROSIE JONES, GLENN MOORE and ANDREA HUBERT
Sunday 11th March
The Coach House, Kings Arms,
King Street, Tring. HP23 6BE.
Show starts 7.30pm (Doors 7pm)
TICKETS £12 *22 Tickets Left*


The Tringe Aperitif continues with a fabulous line of great Tring Favourites. The magnificent Andrea Hubert and Glenn Moore are joined by the much talked about Rosie Jones. A stunning line up of acts all testing their new shows in the most intimate of settings at the Coach House.
Come early and have a meal in the Kings Arms - Call 01442 823318 and tell them you're coming to the comedy.
Tickets for this event are no longer available to buy.
ROSIE JONES: Fifteen Minutes
Fifteen Minutes is the debut hour of critically acclaimed comedian Rosie Jones (8 Out Of 10 Cats, Silent Witness).
In the show, Rosie will ask the question, "Who would I be if I were able-bodied"? Nobody knows, but Rosie's hunch is she's probably a knobhead!


GLENN MOORE
As seen as on Mock the Week. As heard on the Christian O'Connell Breakfast Show on Absolute Radio, and BBC Radio 4.
"Glenn Moore is tipped for great things" GQ
"Relentlessly silly and gag-laden – a potential comedy great" ★★★★ The List
"A class act… undoubtedly bound for greatness" ★★★★ The Herald
"An inventive thinker who stands apart for the quantity and quality of his gags. Great one-liners" Chortle
"A great comedy hour" ★★★★ One 4 Review
"He's an undoubted talent whose star is rising Fest Mag"
"His writing is dazzling" The Scotsman
ANDREA HUBERT
According to Donald Barthelme: "The writer is that person who, embarking upon her task, does not know what to do." Which is a great excuse to write a show about a bunch of mismatched ideas.
Like how internalised misogyny ruins everything, how the Jews have it really good these days (Andrea is one, so she can say that and it isn't racist), how not everyone (mostly Andrea) is on board with saving the bees, and what types of porn a feminist watches.