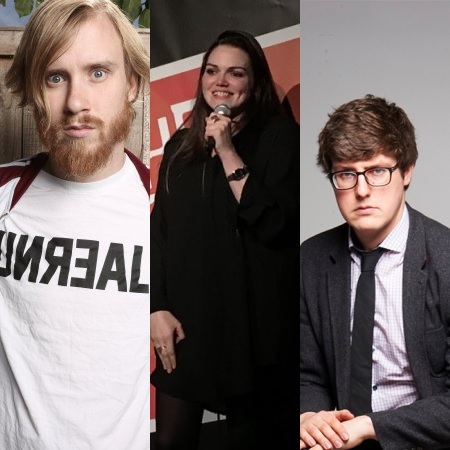 BOBBY MAIR, NAOMI COOPER AND GLENN MOORE
Sunday 24th March
The Coach House, Kings Arms, King Street, Tring.
Tickets £12
This year's Tringe Aperitif continues with a fabulous line of great acts - having had an amazing 2018, the brilliant Glenn Moore returns to Tring. He is joined by the magnificent Bobby Mair and Naomi Cooper. They are all testing their new shows in the most intimate of settings at the Coach House.
Come early and have a meal in the Kings Arms - Call 01442 823318 and tell them you're coming to the comedy.
Tickets for this event are no longer available to buy.
Glenn Moore
Glenn Moore from Mock the Week, Absolute Radio and Stand Up Central, presents a work-in-progress new show full of the distinctive jokes and offbeat gags we've come to accept.
Glenn comes to Tring fresh from his 2018 Edinburgh Festival success where he was nominated for best show.
"The best showcase of pure joke-writing skill on the Fringe" - The Guardian
"A prolific writer of clever, distinctive gags. Brilliantly original punchlines" - Chortle
"This is a comedian putting others to shame. A stunningly well-crafted show" - The List


BOBBY MAIR
A new hour of stand up from Canadian comedian Bobby Mair. Star of Comedy Central at The Comedy Store, Roast Battle, and Bobby and Harriet: Get Married - a reality sitcom co-created with his wife.
As seen opening for Bill Burr and Doug Stanhope. You may have seen Bobby on KSI: Demolished, reading the Internet to Julian Assange when his WiFi got cut off or appearing on Katie Hopkin's TV show just so he could give the fee to people she hated.