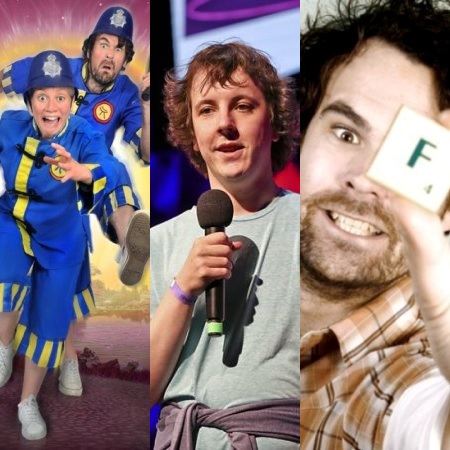 SHORT AND CURLY, TOM MAYHEW AND PAUL F TAYLOR
Wednesday 6th March
The Coach House, Kings Arms, King Street, Tring.
Tickets £12
This year's Tringe Aperitif continues with a fabulous line of great comedians - Old favourites Short and Curly and Paul F Taylor return once again. They're joined by the fantastic Tom Mayhew. They are all testing their new shows in the most intimate of settings at the Coach House.
Come early and have a meal in the Kings Arms - Call 01442 823318 and tell them you're coming to the comedy.
Tickets for this event are no longer available to buy.
SHORT AND CURLY - Caught Short
Short & Curly return with their critically acclaimed lo-fi sketches; old and new. Short is angry in this one.
"Masters of silly, tongue-in-cheek comedy" ★★★★★ Voice Mag
"Just pure, charming fun" ★★★★ EdFest Mag
"A delight … Snappy dialogue and original ideas" ★★★★ The Wee Review
"Raw silliness at its best" ★★★★ Deadline
"A deceptively well put-together hour, with Shorrocks and Taylor's chemistry evident from the first bicker" ★★★★ Chortle
PAUL F TAYLOR - Odd Paul
Heralded by his peers, critically lauded, feared by many, loved by all; everyone's favourite Odd Paul returns with a brand-new work in progress hour of imaginative, logic defying, absurdist, observational stand-up comedy featuring very long sentences.
Nominated for Best New show at Leicester Comedy Festival 2017, 2013.
"There's more than a touch of Harry Hill to Paul F Taylor, in the way he can take imaginative, surreal ideas and hone delightfully silly jokes from them" Chortle
"An enticing, dizzying prospect, who whips through a welter of daft, Harry Hill-like ideas and diversions and chucks characters around with the agility of the Pajama Men." The Independent
"An impressive knack for both observational wit and quirky flights of fancy." The Evening Standard