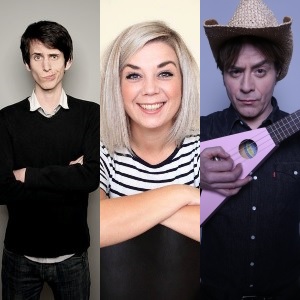 HA HA AT THE HOCKEY CLUB
Saturday 24th November
Berkhamsted Hockey Club, Cow Roast, Nr Northchurch.
Tickets £16

Featuring...
Chris Stokes
Nicky Wilkinson
Christian Reilly
+ Ed Night

Our annual comedy fundraiser has provided some stunning gigs over the years and this line up will provide another cracking night of entertainment.
18 TICKETS LEFT
Tickets for this event are no longer available to buy.
Christian Reilly
At the age of 15, Christian Reilly joined a band to get laid. The Salvation Army had different ideas…

As former integral part of the Perrier award-winning show Otis Lee Crenshaw and the Black Liars, with comic/songster Rich Hall, Christian's career has taken him around the world three times. On his way, he received accolades at international festivals and numerous network TV credits in the USA, Australia, New Zealand and Britain.

Now a solo stand-up performer and playing all the major comedy venues in his own right, Christian uses his dynamic guitar and vocal skills to target histrionic rock bands, musical theatre and morose indie musicians. He recently wrote and performed for 'That Was Then This Is Now' (BBC Radio 2) as musical counterpart to Richard Herring and Emma Kennedy, as well as giving his improvisation skills an outing on Radio 2's 'Jammin'.

Christian's comic songs, improvisations, sharp wit and youthful energy have delighted audiences wherever he performs. He was recently interviewed for the British Comedy Awards Magazine, and will be appearing in Edinburgh in 2006, performing in the ever-popular 'AAA' at the Pleasance Courtyard.

"His stand-up is witty and heaving with punchlines…will win over all but the hardest hearts and minds." Chortle
Nicky Wilkinson
Nicky Wilkinson has always having had a passion for comedy and a flair for comic roles. Over the years she has been involved in sketch and improvisational comedy, alongside a vast array of more traditional acting roles.
Having made her first forays into stand-up comedy as a resident compere at the award-winning Funny Side Comedy clubs. She reached the finals of prestigious comedy competitions So You Think You're Funny and New Act of the Year in 2013 and is now gigging all over the country as an act in her own right.

A bright and quick-witted Hullonian, her warm, likeable, down-to-earth style instantly puts audiences at ease; as ready and eager to laugh as they would be sharing a great joke with a friend. Her comedy mixes charming, real-life anecdotes with just the right dose of self-deprecation and often brilliantly funny improvised riffs with the crowd.

In addition to her solo work, she's also one half of comedy double-act Wilkinson Ford and their silent comedy alter-egos The Kagools.
Chris Stokes
Brilliantly wry and award winning comic (Best Show – Dave's Leicester Comedy Festival 2012) – Chris Stokes has been performing stand-up professionally since 2009. His career has seen him support the likes of Milton Jones, Pete Firman and Stewart Francis on tour, appear on 'Dave's One Night Stand' (Channel Dave), BBC Radio 4, 5Live and Radio X (formerly XFM) and take four critically acclaimed solo shows to the Edinburgh Fringe Festival. Chris is also a regular on the UK comedy circuit and is frequently booked for the Glees, Stands, Baby Blue, Frog & Bucket, Manfords and Highlight among others.

With a hilarious and erudite turn of phrase, Stokes has been described as playing on social misconceptions and dismantling them both on stage and on the page via gag-packed first-hand anecdotes told with a charming and offbeat sincerity.

As well as stand-up and writer, Chris is also a talented actor having started in a number of plays, both comedy and drama and is also one quarter of new sketch comedy group The Mitford Sisters.

Chris is a keen and gifted writer and has had a variety of articles published. Currently, he is working on a number of development projects across both television and radio, alongside writing for his 5th solo show, 'Eternalist' set to debut at the Edinburgh Fringe Festival next August.
Ed Night
Leicester Mercury Comedian of the Year Nominee 2017
Runner Up - Piccadilly Comedy Club New Act of the Year 2016
3rd Place - So You Think You're Funny? 2015
"An amazing assurance and confidence in his delivery and some really well-written jokes... I can't wait to see his debut hour" - The Scotsman
"This is a man going places... there's no mistaking his ability. He's a natural." - TV Bomb
"Deliciously dry and astute observational humour with spot on delivery; Ed Night is effortlessly cool." - FringeBiscuit