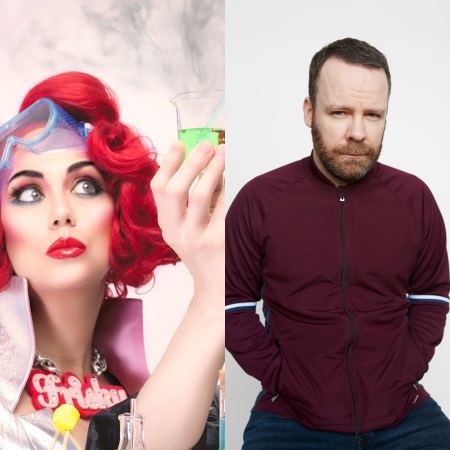 FRISKY AND MANNISH AND NEIL DELAMERE
Wednesday 17th July
Start 8pm (Doors 7.15pm)
The Court Theatre
Tickets £15 (Unallocated Seats)
Please note - most performances are previews/warm ups. Acts may be using notes during their show.
It's taken a while, but getting Frisky and Mannish back to Tring has been high on our agenda for a number of years. And the brilliant Neil Delamere is one of the finest comics on the circuit. You've got a real treat in store.
---
Tickets for this event are no longer available to buy.
Frisky & Mannish: PopLab
10 years since they burst onto the scene with their wildly popular brand of musical infotainment, Frisky & Mannish are officially Pop PhDs, fully qualified to conduct scientific analyses of the molecular intersections between every pop song ever.
For the first time, you are invited into their PopLab to peek down the microscope at all their latest research projects. Have they found an effective vaccine for the contagious virus sweeping through the pop world? Who is the latest to benefit from their 80s Dance-Pop Conservation Program? Brush up on your Pop Periodic Table with the mad scientists themselves, and you'll be able to answer academic questions yourself, like just how can Coldplay be so popular even though everyone you ask says they hate them?
Shameless Edinburgh Fringe sell-outs 2009, 2010, 2011, 2012 and 2016. International jetsetters from Shepherd's Bush Empire to Sydney Opera House. Adelaide and Brighton prize-winners. BBC Radio 1 regulars and stars of BBC2, BBC3 & ITV. Cabarioters. Hosts of the Social Vommentary podcast.
"A riotous night out" Guardian
"A constantly evolving force of musical nature" **** Metro
"Superb and uncontrollable" Sunday Times
"A complete triumph" ***** Time Out Sydney
***** Time Out   ***** Edinburgh Evening News   ***** Herald
***** Daily Mail   ***** Chortle
***** Adelaide Advertiser   ***** The List   ***** The Skinny
***** Broadway Baby   ***** Gay Times   ***** Three Weeks
---
Neil Delamere
Star of BBC's the Blame Game, Fighting Talk and the Newsquiz Neil Delamere presents this work-in-progress show
"You'll be hard pressed to find a more gifted comic at the Fringe." ***** The Scotsman
"One lean, mean, comedy, killing machine." ***** The Herald
---
Line up subject to change. We will endeavour to replace acts on a like-for-like basis. In the event of a line up change, you will be offered the option to either reconfirm your order for the altered event, to exchange to a different event or to take a credit note for a future event. Due to the preview nature of the event, refunds will not be available.