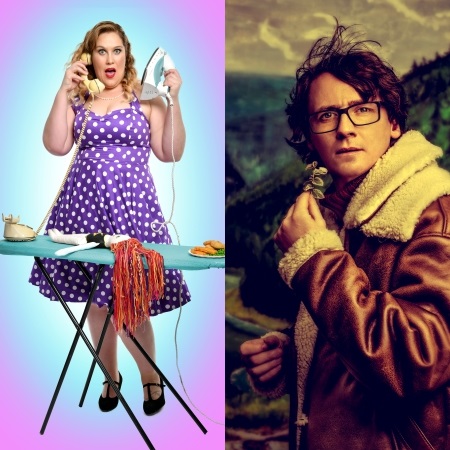 LUCY FREDERICKS AND ED BYRNE
Sunday 7th July
Start 7.30pm (Doors 6.45pm)
The Court Theatre
Tickets £20 (Unallocated Seats)
Please note - most performances are previews/warm ups. Acts may be using notes during their show.
TICKET UPDATE - THE LAST REMAINING TICKETS ARE NOW ON SALE. ONCE THESE HAVE GONE, THAT'S ALL FOLKS!
The wonderful Ed Byrne returns to the Tringe stage to warm up his new tour show. Joining him is the fantastic Lucy Fredericks.
---
Ed Byrne: If I'm Honest
Join Ed as he takes a long hard look at himself and tries to decide if he has ANY traits that are worth passing on to his children.
Lauded as one of the finest observational comics in the industry it is no surprise that he is now a TV name. BBC appearances recently have included: Mock The Week, Live at the Apollo (Host), Top Gear, QI and The Pilgrimage.
'One of our finest comedians'   Morning Star ****
'His packed audience are well entertained' Sunday Express *****
'My face still hurts from laughing so much. Bravo, Ed'   ***** Student Newspaper
'He is a total pro and terrific company' **** The Times
---
Lucy Frederick: Famtastic
Three years ago comedian Lucy Frederick ("Delightful" Broadway Baby) was picking herself up from the floor and ordering a gin and tonic; now she is picking up dirty socks and ordering fish fingers and peas. From disaster queen to model step mum – this is a stand up show about Lucy's journey towards becoming part of a modern blended family, avoiding its wicked pit falls and navigating the alarming world of parenting.
"A genuinely gifted performer" **** The Scotsman
"Strong and diverse" **** Three Weeks
"Like catching up with a best friend" **** The Wee Review
---
Line up subject to change. We will endeavour to replace acts on a like-for-like basis. In the event of a line up change, you will be offered the option to either reconfirm your order for the altered event, to exchange to a different event or to take a credit note for a future event. Due to the preview nature of the event, refunds will not be available.