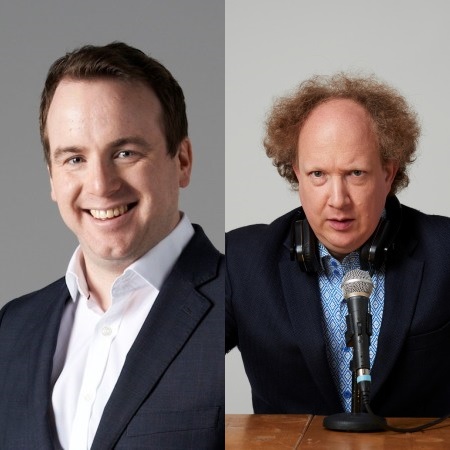 MATT FORDE AND ANDY ZALTZMAN
Thursday 18th July
Start 8pm (Doors 7.15pm)
The Court Theatre
Tickets £15 (Unallocated Seats)
Please note - most performances are previews/warm ups. Acts may be using notes during their show.
TICKET UPDATE - THE LAST REMAINING TICKETS ARE NOW ON SALE. ONCE THESE HAVE GONE, THAT'S ALL FOLKS!
Two Tring favourites return to the Court Theatre stage for this wonderful evening of comedy. 
---
Matt Forde : Brexit, Pursued by a Bear
Join Britain's leading political comedian as he once again promises his last show as an EU citizen (maybe). As seen on Have I Got News For You and The Royal Variety. Complete sell out 2018 Fringe.
"Possibly the best political comedy show on the Fringe" ★★★★★ Dominic Cavendish, The Telegraph
"Is there a better political comic than Matt Forde currently working in the UK? I can't think of another to touch him" ★★★★½ Jay Richardson, Chortle
"a stand-up of rare skill" ★★★★ Stephen Armstrong, The Sunday Times
---
ANDY ZALTZMAN:  CTRL+Z
"Might be worth another pop at some of that stuff you're doing," said The Future to The Present.
"Really?" said The Present, irritated.  "Can't it wait?"  "No," said The Future, its eyes welling up once again.  "I'll be the judge of that," said The Present.  "Besides, I blame The Past."  "Oh, you're as bad as each other," growled The Future, flipping an aggressive bird to anyone who might pay attention, and disappearing off into itself.  "Oooooh," sniggered The Present.  "Tetchy."
Andy Zaltzman, host of the global smash-hit podcast The Bugle, and BBC radio regular, frantically attempts to undo some of his own and his favourite planet's various bloopers, to see if The Future can be fobbed off with a slightly improved version of itself.
"Political comedy at its best" Sunday Times
"Fiendishly sharp satirist" Evening Standard
---
Line up subject to change. We will endeavour to replace acts on a like-for-like basis. In the event of a line up change, you will be offered the option to either reconfirm your order for the altered event, to exchange to a different event or to take a credit note for a future event. Due to the preview nature of the event, refunds will not be available.