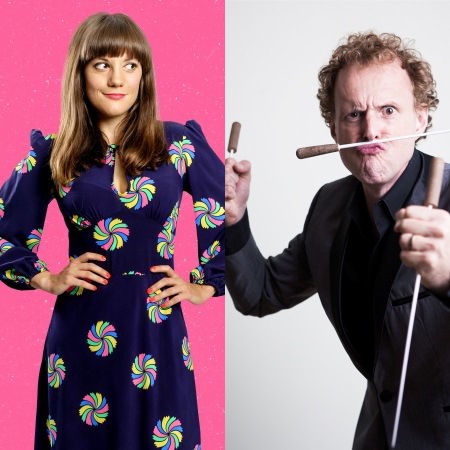 VIKKI STONE AND RAINER HERSCH AND THE TRINGE PHILHARMONIC
Saturday 20th July
Start 7.30pm (Doors 6.45pm)
The Court Theatre
Tickets £20 (Unallocated Seats)
Please note - most performances are previews/warm ups. Acts may be using notes during their show.
Our last night of the 2019 Tringe Festival is the most ambitious gig we have ever hosted. The musical genius of Rainer Hersch, supported by our own orchestra - the Tringe Philharmonic (made up of musicians from the BBC Symphony Orchestra and Covent Garden Opera House - and all who live within 15 minutes of Tring!!). The wonderful Vikki Stone, the 'Lovechild of Victoria Wood and Tim Minchin' will have you crying with laughter. An amazing night to finish this years Tringe Festival.
---
Tickets for this event are no longer available to buy.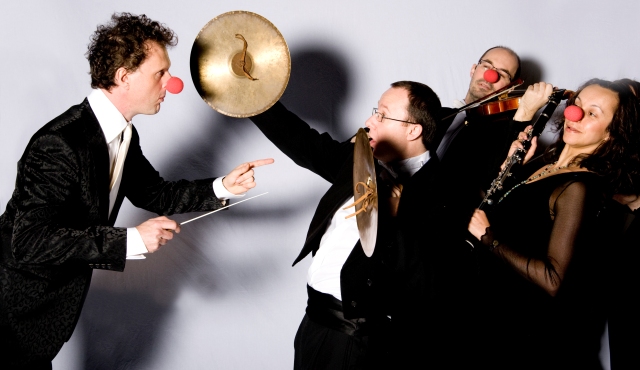 RAINER HERSCH ORKESTRA
Classic Greats, Comedy Gold
Stand-job comedian, conductor and all round musical genius Rainer Hersch comes to Tring accompanied by the most magnificent comic device ever seen – his very own 9-piece mini Orkestra of madcap virtuosos.  Expect an evening of laughter and great music making, everything from Tchaikovsky to Titanic.  Yes, it's a concert Jim but not as you know it and whether you are a professor of harmony or couldn't tell a string quartet from a string vest, this is "a guaranteed laugh every four bars" Scotsman.
"The funniest concert you will ever see"
Time Out
"After seeing this show you'll find yourself gleefully clapping in the wrong place, creating symphonies of coughs and providing mobile phone counterpoints to the Great Masterworks – the concert hall won't be the same again" Tom Service, The Scotsman
***** "An Anglo-Tuetonic blend of English self-deprecation and Germanic highbrow virtuosity"
The Guardian
***** "You'll never see another show quite like this"
Edinburgh Evening News
"Gerard Hoffnung meets Victor Borge with some cheeky stand-up humour thrown in for good measure"
The Times
"Most parodies are only funny if the parodist knows what they're on about, and cares about it too – and this comic maestro qualifies on both counts."
The Guardian
Vikki Stone: Song Bird
Multi award-winning comedian and musician Vikki Stone returns to the Edinburgh Festival with a new show of her trademark comedy songs and stand up. Whilst in previews Song Bird has won Best Musical Show at the 2019 Leicester Comedy Festival Awards.
As seen and heard on BBC Radio 4's The Now Show, BBC One's John Bishop Show and the BBC Proms Podcast.
'Musical comedy genius' Absolute Radio
'Lovechild of Victoria Wood and Tim Minchin' The Scotsman
'The audience were almost crying with laughter' The Guardian
**** The Scotsman
**** Three Weeks
**** Sunday Herald
**** Broadway Baby
---
MEET THE TRINGE PHILHARMONIC
Tring and the surrounding area is a little hotbed of stunning musicians who play for the significant orchestras in London and all over the world. We've taken this opportunity to put together our own Tringe Philharmonic together for his gig.
Massive thanks to the following players as well as Julie Price and Alan Garner for being our booking agents!
PAUL BARRITT  Violin
Paul Barritt is Permanent Guest Leader of the Hallé Orchestra having held the post of leader of both the English Chamber Orchestra and the Royal Northern Sinfonia.
Paul's discography includes CDs of the violin sonatas of Beethoven and Brahms and violin works of Howells, Ireland, Stanford, Sammons, Rheinberger, Rozsa and Schoeck.
With Josephine Horder he runs the popular Tring Chamber Music concerts.  In recent seasons he has been giving musically illustrated talks on the subject of -'Music and Birds - A violinist's view,' most notably under the famous portrait of Charles Darwin for the Linnean Society of London
---
ROSEMARY WAINWRIGHT  Violin
Rosemary Wainwright studied at Trinity College of Music, London, with Gillian Findlay and Hugh Bean. Following an award from the Countess of Munster Musical Trust she continued her studies at Utrecht School of Arts in The Netherlands.  Rosemary held positions with the Malaysian Philharmonic Orchestra and with Northern Ballet Theatre before joining the Royal Philharmonic Orchestra. She also plays with many chamber orchestras and is CoLeader of the Bath Philharmonia.
---

PETER MALLINSON   Viola
Peter Mallinson is a viola player with the BBC Symphony Orchestra.
When he's not doing this he is either busy unearthing and promoting forgotten gems of the chamber repertoire, most recently the music for two violas, or teaching.
On the rare occasion Peter is not engaged in some musical activity he can be found baking or attempting to hone his gardening skills.
---

JOSEPHINE HORDER Cello
Josephine Horder (cello) and her husband Paul Barritt have lived half a mile from this theatre for 25 years. As well as a concert cellist she is a dedicated cello teacher and keen gardener.
She is also a Feldenkrais practitioner, teaching weekly public classes in 'Awareness Through Movement' in Tring as well as giving one-to-one lessons. The Feldenkrais Method can help people to move and function more easily and pleasurably in all their activities.
---
LEON BOSCH Double bass
For twenty years principal double bass with the Academy of St Martin in the Fields, Leon Bosch left the orchestra in 2014, devoting himself to his musical interests elsewhere: performing and recording as a soloist, setting up his chamber ensemble I Musicanti and teaching in the UK and internationally.
Encouraged by his former colleague at the ASMF, Sir Neville Marriner, and having directed orchestras from the solo double bass many times, he also took up conducting and now appears regularly on the podium and as soloist/director.
Born in Cape Town, although now a British citizen, he graduated from the University of Cape Town before completing his double bass studies at the Royal Northern College of Music.  As soloist, Leon Bosch has so far recorded ten CDs, including the world premiere recording of music by the Catalan virtuoso Josep Cervera whose work he rediscovered and has been instrumental in reviving. He has commissioned dozens of works for the instrument.
EMMA CANAVAN  Clarinet
Emma Canavan grew up in Ireland and studied Law at Trinity College Dublin before moving to London to do a  Postgraduate in performance at the GSMD.  Since then, Emma has had a flourishing career as an orchestral and chamber musician.  A member of the London Mozart Players, Emma has perfomed with many other groups including  the London Symphony Orchestra, the Chamber Orchestra of Europe, Britten Sinfonia and the Nash Ensemble to name but a few.  A keen and committed teacher and tutor, Emma is on the staff at Radley College and regularly coaches youth ensembles all over the country.
RICHARD WAINWRIGHT    Horn
Richard performs with many of the leading London orchestras and is principal horn of the London Festival Orchestra, English Festival Orchestra, New London Soloists, Milton Keynes City Orchestra, Belmont Ensemble, Bath Philharmonia and the Camerata of Ireland.
He was a member of the European Chamber Orchestra for eight years, touring extensively in the Middle and Far East, South America, South Africa and the USA. He has recorded soundtracks of Star Wars, Harry Potter and the Lord of the Rings for Warner Bros and Mozart's Sinfonia Concertante for solo winds with the Belmont Ensemble.
Richard is an Associate of the Royal Academy of Music and a committed teacher with many of his students now pursuing professional careers.
ALEX NEAL  Percussion
Alex Neal has been the Co-Principal Percussionist of the BBC Symphony Orchestra since 2003. Born in Colchester, he won a scholarship to the Royal College of Music in 1989 to study percussion and timpani and graduated with first class honours in 1992.
Alex has taught percussion, timpani and drum kit for the duration of his professional career culminating in becoming a Percussion professor at the Royal College of Music in 2008. Alex has also played on many film soundtracks including 'Lord of the Rings' and 'Harry Potter'.
ELIZABETH BURLEY Piano
Elizabeth Burley enjoys a varied career particularly as chamber musician and orchestral pianist. She has given concerts throughout the United Kingdom, Europe, Japan and North America with many leading soloists including Hakan Hardenburger, Michael Collins, Isabelle van Keulen, Philippe Graffin and Robert Cohen.
She has made numerous chamber music recordings including a disc of piano duets with Kathryn Stott.
As orchestral pianist Elizabeth performs regularly in concerts, tours and recordings with orchestras including the BBC Symphony Orchestra, London Symphony Orchestra and the Philharmonia. In the 2004 Proms season she made her debut as a solo artist in a performance of Colin MacPhee's Tabuhtabulan with the BBC SO.
She has broadcast regularly on BBC radio and television and for many years was official accompanist of the BBC Young Musician of the Year Competition. She is currently a member of the keyboard faculty at the Royal College of Music.
---
Line up subject to change. We will endeavour to replace acts on a like-for-like basis. In the event of a line up change, you will be offered the option to either reconfirm your order for the altered event, to exchange to a different event or to take a credit note for a future event. Due to the preview nature of the event, refunds will not be available.