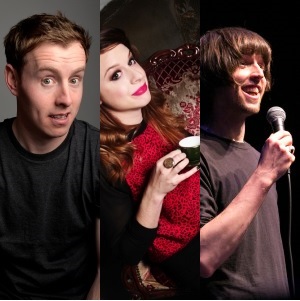 Andrew Ryan, Amy Howerska and Tom Ward
Monday 27th March
The Coach House, Kings Arms, Kings Street, Tring
Start 7.30pm (Doors 7.00pm)
Tickets £10
---
Tickets for this event are no longer available to buy.
Amy Howerska
Amy is a Comedian, Actress and Writer. She is also a Polish Irish Catholic Jew, born and raised in Wales. A diversity box ticking wet dream (she is also heavily persecuted).When Amy was growing up she used to watch all those count down list programmes on Channel 4 and 5, you know the ones, '50 Greatest Celebrity Hand Jobs' and she'd think 'who are these dickheads?'Now she is one of those dickheads. Her TV credits include "The 50 Funniest Moments of 2013" (Channel 4), "The Greatest Christmas Films 2014" (Channel 5) and "The 40 Greatest Action Movies Of All Time" (Channel 5).
Cutting her teeth and losing cardigans on the comedy and festival circuit. Gigs of note include "Spank" (as a host in 2014). End Of The Road Festival, Bestival, Latitude, Secret Garden Party, Mach Fest, Banana Cabaret,Bent Double at the Komedia Brighton, Glee Cardiff and many more that have merged into one large gig memory… She has also played many shitholes up and down the country. In one such gig two hundred squaddies chanted "minge" at her. #Showbizz.
Andrew Ryan
Irishman Andrew Ryan is one of the most exciting talents in recent years; in demand as an act and an MC at the biggest comedy clubs across the UK & Ireland.
Andrew's quintessentially Irish storytelling abilities and cheeky, friendly demeanour make him a natural observational stand up. He performed his debut hour show 'Ryanopoly' at the Edinburgh Fringe Festival in 2012, receiving rave reviews ('Illuminating debut ****' – The Metro).  In 2014 he returned with his latest show 'The Life of Ryan' playing to packed out rooms ('Going to be a huge star ****' – Timeout).
In 2015 he was at the  Edinburgh Festival with his latest show 'Perfectly Inadequate'. Selling out his run at the Festival and having to put on extra shows.'Hard not to enjoy' **** Daily Record. 'An hour of hilarious comedy' **** Edfestmag.
He returned again to Edinburgh in 2016 with he show 'Ruined'.
He has performed stand-up on BBC3's Russell Howard's Good News, Best of the Edinburgh Festival Live on BBC3,  Live at The Comedy Store for Comedy Central, & Live for MIND on Comedy Central.
Tom Ward
Comedian, writer, filmmaker and voice-over artist Tom Ward has made a name for himself in comedy as a finalist in the BBC Radio New Comedy Award 2014, Leicester Square New Comedian Final 2013 and NATY Final 2014. Tom has forged a successful and unique path in the industry, with his inventive style incorporating his voice-over talents and improvisation, in addition to his innovative writing.
"Equal parts hilarious and bizarre…One of the most impressive, distinctive newish acts around" (Bruce Dessau – Beyond The Joke)
"Unique, unpredictable, and able to carry off jokes about the oddest of things…Definitely someone to look out for." (London is Funny)
"Fine writing, evoking silly images and ideas, combines with a distinctive look to make him memorable." (Steve Bennett, Chortle)