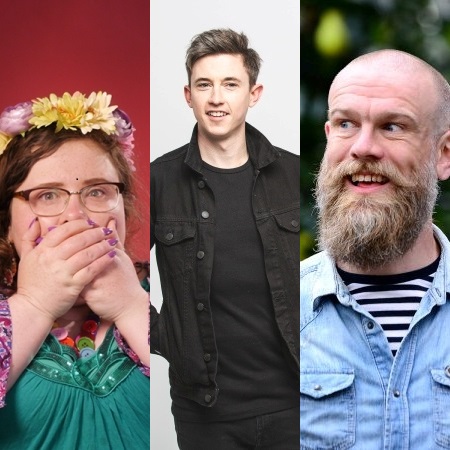 ALISON SPITTLE, JAKE LAMBERT and OLAF FALAFEL
Sunday 8th March
The Coach House, Kings Arms, King Street, Tring.
Tickets £12.50
This year's Tringe Aperitif continues with a fabulous line of great acts - Tring favourites Olaf Falafel and Jake Lambert are joined by Alison Spittle to make up this wonderful line up. They are all testing their new shows in the most intimate of settings at the Coach House.
Come early and have a meal in the Kings Arms - Call 01442 823318 and tell them you're coming to the comedy.
Tickets for this event are no longer available to buy.
Tickets for this event are no longer available to buy.
Olaf Falafel
Winner of the 2019 Funniest Joke Of The Fringe, Olaf Falafel is a surrealist comedian and illustrator of very silly children's books.
As well as finding comedic success onstage with shows such as 'The Cheese Of Truth' and 'Knitting With Maracas', Falafel has also enjoyed online fame with his short viral videos. These absurdist movies include a croissant-coiffured talking Donald Trump puppet, slices of truth telling cheese being thrown onto newspapers and the Bee Gees hiding in his beard.
The comedy website Chortle affectionately described Falafel as 'an idiot' and when he doesn't have a microphone in his hand you'll probably find him with a pencil and pad trying to draw something equally idiotic.
---
Jake Lambert
Jake Lambert returns with another show full of 'brilliant one-liners' (Chortle) to discuss how people are perceived and the way we judge others.
Other topics Jake will be covering: Michael Jackson, Australia, Straight Pride, Tattoos and School.
'If likability alone won comedy awards, Jake Lambert would have a full mantelpiece' – Chortle
'Sharper material, even stronger likability' - I Talk Telly
'Jake Lambert seems the equivalent of a good times politician' - The Skinny
'Someone to watch out for in the future' ★★★★★ - London Theatre 1
'Lambert has marked himself out as one to watch' ★★★★ - Edinburgh Festivals Magazine
---
Alison Spittle
Co-host of guilty feminist Alison Spittle is doing a WIP for Edinburgh 2020.
Watch her work some bits out and try and put a show together.
"Whether character or citizen, Spittle comes across as a kind of genius." **** Irish Times
---
Line up subject to change. We will endeavour to replace acts on a like-for-like basis. In the event of a line up change, you will be offered the option to either reconfirm your order for the altered event, to exchange to a different event or to take a credit note for a future event. Due to the preview nature of the event, refunds will not be available.