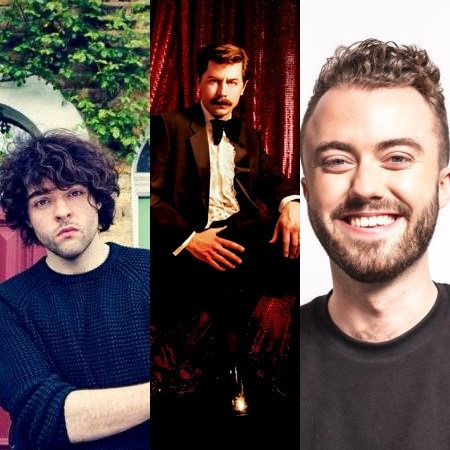 EDD HEDGES, MIKE WOZNIAK and TOM LUCY
Wednesday 25th March
The Coach House, Kings Arms, King Street, Tring.
Tickets £12.50
This year's Tringe Aperitif continues with a fabulous line of great acts - Tring favourite Tom Lucy, is joined with a couple of wonderful acts making their first appearance on the Tring stage. They are all testing their new shows in the most intimate of settings at the Coach House.
Come early and have a meal in the Kings Arms - Call 01442 823318 and tell them you're coming to the comedy.
Tickets for this event are no longer available to buy.
Tickets for this event are no longer available to buy.
Tom Lucy
Join Tom Lucy as he tests brand new material for an upcoming show. Star of Comedy Central and ITV. Tour support for Jack Whitehall and Aziz Ansari.
'Tom Lucy offers a sparkling mix of youth and slightly old-fashioned comedy' ★★★★ - Sunday Post
'Charismatic and extremely funny stand up show... wonderful new talent' - Scottish Sun
'Watch him live and you'll quickly understand the excitement' - Guardian
---
Mike Wozniak
"Zusa"
Mike's Great-Aunt Zusa was a war refugee. Doesn't sound very funny does it but despite that Mike is hoping to score some virtue-signalling points by doing some stand-up about it.
As seen on Man Down (Channel 4), Prevenge (directed by Alice Lowe), Horrible Histories (CBBC). As heard on Small Scenes (BBC Radio 4), The Beef and Dairy Network Podcast and the St Elwick's Neighbourhood Association Newsletter Podcast.
"Wozniak is bang on the money" Sunday Times **** (ages ago for a totally different show)
---
Edd Hedges
Edd Hedges Brings his brand new show to the Tringe Aperitif. its early doors, but he thinks this is going to be the one the finally ends world suffering. stories and jokes and stuff from a kid that one a big competition ages ago and has been around the world telling jokes. it'll be fun. you should come. he's a sweet kid.
'Edd Hedges is a joy to watch.' The Scotsman
'It's not often you are left stunned at the end of a Fringe show...funny, complex and dark' ★★★★ ★The Student Newspaper
"You'll be thinking about Hedges for the rest of the run' ★★★★★ The Fountain
★★★★ ★ one4review
---
Line up subject to change. We will endeavour to replace acts on a like-for-like basis. In the event of a line up change, you will be offered the option to either reconfirm your order for the altered event, to exchange to a different event or to take a credit note for a future event. Due to the preview nature of the event, refunds will not be available.