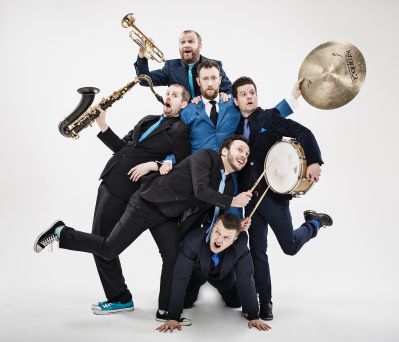 THE GET STUFFED CHRISTMAS PARTY featuring THE HORNE SECTION
Special guest to be announced.
Tuesday 15th December
The Court Theatre, Tring
Tickets
- Show only £20
- Dinner, Show and Disco - £44
The Get Stuffed Christmas Party is back for another festive show with The Horne Section returning for their 2nd time.
They are the first band to ever host 8 Out of 10 Cats Does Countdown (Channel 4) and Never Mind The Buzzcocks (BBC 2). They roll into town with a brand new barnstorming show.

Hot on the heels of their BBC Radio 4 series, five years of sell out shows in the Edinburgh Festival Fringe and West End – expect a heady mix of spontaneous stand-up, spectacular performance and outlandish musical talent led by the brilliant comedian Alex Horne. 
''An absolute blast'' ***** Metro
''We can't recommend The Horne Section highly enough'' ***** Time Out
"Wildly entertaining welding of stand-up comedy and big bang music" The Guardian
Tickets for this event are no longer available to buy.