We also use our contacts and expertese to help other community groups/events/clubs and schools to arrange their own comedy event fundraisers. We are responsible for raising approaching £100,000 over the last few years for such organisations. We've supported local and nation charities including Iain Rennie Hospice at Home, Sick Children's Trust and Thames Valley and Chilterns Air Ambulance Trust and the Roy Castle Lung Cancer Foundation. As well as local events including Berkofest, Ivinghoe annual entertainments weekend and the Tring Carnival. We do an annual comedy fundraiser for Tring School which this year raised £4,000 for their music department and World Challenge. We've also made financial donations to local good causes including the Scouts and Playground appeals.
All those who work on the Tringe, do so as volunteers, from all the marketing and admin staff, through to those involved on the events including technical, box office and front of house.

Any questions please don't hesitate to email me - ben@get-stuffed.biz

Many thanks
Ben
Personal Twitter @BenDMoorhouse
Festival Twitter @tringefestival
Some of the supported charities and good causes...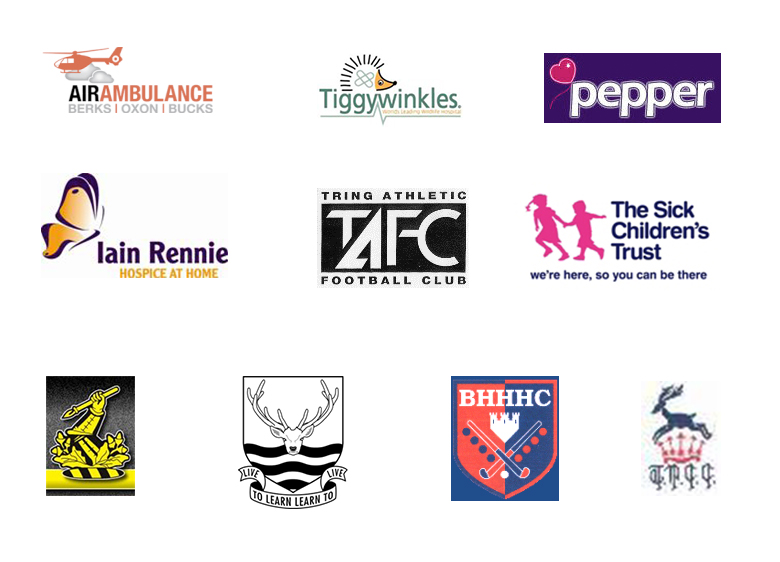 "On behalf of everyone here, I would like to thank you for the very generous £1,000 donation presented to our nurse Elaine Taylor. As a charity we continue to face tough care and income challenges as patient numbers continue to rise but NHS funding does not. We cannot stress enough how much we appreciate your support to help us raise much needed funds. This really does help to make a difference so do please pass on our grateful thanks to all who made this possible."
JENNY MOLONEY
Community Fundraiser, Iain Rennie Hospice at Home
"This is just a brief note to thank you and your team at the Tringe for the incredibly generous donation of £1,000 to unit funds. We run the unit on a very slim budget for day-to-day expenditure and it is only by donations such as this that we can afford to purchase the equipment that we need."
PAUL TERRETT
Icknield Explorer Scout Leader
"Thank you so much for your wonderful donation of £1,000.00, as you know all support is very much appreciated. Your support has given us an immediate boost and has been used for foods and medicines for our 1,600 patients!"
LES STOCKER MBE, HonAssocRCVS
Tiggywinkles Wildlife Hospital
"I wanted to thank you personally for the terrific donation of £1,000 to the Motor Neuron Disease Research Group in Oxford. As you will know this is a devastating disease and our enourmous efforts to try and understand it, so that we can better treat patients, does require this kind of support."
Dr KEVIN TALBOT
Reader in Clinical Neurology
"May I thank you for organising the comedy night at the Court Theatre last week and for donating £735 to the Thames Valley and Chiltern Air Ambulance Trust."
CARL UNDERY
Community Fundraising Manager