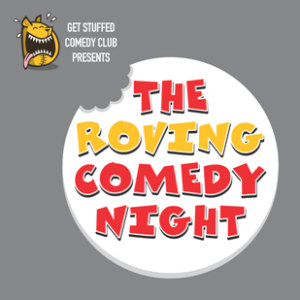 Date
Sunday 2nd July 2023
Time
7:30 PM
Doors Open
7:00 PM
Venue
4 Pubs in Town Centre
The Roving Comedy Night is undoubtedly a highlight of the Tringe.
Four venues full of comedy loving audiences, four groups of comedians made up of professionals and a group of locals who have trained for the scariest and most exhilarating night of their lives.
This unique night of mirth crossed with community spirit and a general love of bonkers behaviour returns for the twelfth year. Another crop of new trained comedy students take their first tentative steps into the world of stand-up. Cheer them all to the rafters with the thought 'Thank god it's not me up there'!
Our students will be accompanied by professional comedians to give a guiding hand and to provide 'guarenteed' laughs. Each venue will have an amazing MC to keep proceedings moving.
Please note - You need to get tickets for just one of the venues. The audience stays put at their allotted pub and the comedians will visit each venue. And remember, these events are in pubs, please don't expect a theatre. You are as likely to be watching the event as you are proping up the bar as you are to be sat under the noses of the performers. Should you need a chair or have any access questions, please speak the bar staff on the night or ideally before the event.

The 2023 professional comedians.
Arthur Smith, Silky, Ian Stone and Tom Stade.

The 2023 venue hosts.
Olaf Falafel (The Bell), Chris Stokes (Robin Hood), James Farmer (Black Horse) and Pippa Chappell (Kings Arms).
MEET THE ROVING TRAINEES
Ian McGuire from Wendover, Bucks
Where do you work?
I'm in theory a gentleman of leisure tempered by the fact I'm married.
Why are you doing this?
I'm doing this to mine and develop a (very) slight talent that I might have. To test myself and hopefully gain a sense of achievement (something that's sadly lacking in my current mundane day-to-day existence). To perhaps make some new friends, set myself some targets for the future - beyond completing the course and possibly performing and most importantly to have some fun and a load of laughs.
Who will be most shocked / excited your are doing the course?
Me primarily though my wife is very encouraging and supportive and those friends and acquaintances (when not groaning or eye rolling) who think I might make a success of it (comedy that is, not just completing the course).
Kath Tomlin from Chesham
Where do you work?
Community Manager at Secret Cinema, London. I run community and education outreach for an immersive theatre company (after being an English teacher for 20 years).
Why are you doing this?
I've always enjoyed performing/showing off. I'm interested in being playful with language - I take the opportunity to use a pun as often as possible. If I've a funny anecdote to tell friends I always think carefully about the best way to tell it; the best way to bring out the humour in it - even if it's a carefully constructed text message. I got so irritated by the 'School Mums WhatsApp group' that I created a parody one and sent it to a select group of mum friends.
Who will be most shocked / excited your are doing the course?
I'd love the opportunity to hone this little creative corner of me and hope there's something more there. " My father who does not seem to understand humour (I warn friends not to use sarcasm with him as he'll take it literally). His only comedy frame of reference is Dad's Army (which he still seems to think is the most groundbreaking comedy style), and that David Baddiel went to the same school as him (but he wouldn't know what The Mary White Experience is or who Frank Skinner is).