The Tringe is back for its 9th year. The three week festival runs from from 24th June to 14th July and sees the biggest and best comic acts previewing their shows before they head up to Edinburgh in August.
The full festival line up is now in place and available to view here. This includes some Tringe favourites returning as well as some great names making their debut appearance. The Festival event guide has now gone to print and will be landing through all local (Tring and Berkhamsted) letterboxes in the coming weeks.
This years campaign includes the brilliant 'Stand Ups' that were so effective back in 2013.
If you see one please take a selfie with the stand up and put on Social Media. Include the hashtags #Tringe2018
AND tag us on Twitter, on Instagram and on Facebook
THE TRINGE FESTIVAL PASSPORT - All passports have now sold out unfortunately.
TICKETS
Most shows are still available in Black Goo. Pop in for a coffee and see what they have.

There are fewer tickets online but you can still find a cracking show or two.
STAND UPS IN TRING
This year's festival campaign features the wonderful stand ups in all the shop windows on Tring High Street. A huge thanks to all those shops who have taken part with such great humour. Go and visit them, they'll be in the windows of the following until Saturday 23rd June: Confetti, Emmaus, Picture Box, Fancy That, The Market House, House of Cards, Lolly and Mitch, Metcalfes, Harpenden Building Society, McColls, The Motorist Centre, Lloyds Pharmacy, Graces, Magnolia and Black Goo...
TRINGE FESTIVAL FAMILY SHOW
As well as stacks of great comedy, we're also hosting this wonderful Family Show featuring Tring favourite Charlie Baker...

CHARLIE BAKER presents The Greatest Goat of all time!
World premiere of this fresh, funny, fantastical story starring award-winning comedian, singer and dancer Charlie Baker (Harry Hill's Tea Time, Dog Ate My Homework, Doctor Who) and BAFTA-winning CBBC Class Dismissed actress Sam Battersea.
Live Clip-Clop Hip-hop soundtrack accompanies our hero on her journey from 0-100% confidence with her magically tuneful farmyard friend.
Jokes! Songs! A goat! (plastic). Smiles! (Not plastic).
Age guideline - 5-105. Bring the kids whatever their age!!
RUNNING TIME - 60 mins approx
This event has already taken place.
TICKETS
Tickets are now on sale in Black Goo in both Tring and Berkhamsted (Home and Colonial). This includes tickets for one or two previously sold out gigs. There are a limited number of printed tickets so these are only available whilst stocks last.
Now rush down to Black Goo now and fill yer boots!

THANK YOU TO THE SPONSORS
Huge thanks to our Sponsors, Big Yellow Self Storage the creative agency 4-Seconds and local chartered Accountants The Cook Partnership who are supporting the Tringe Festival - without them the event would not be possible
To receive updates regarding the Tringe please follow us on Twitter, on Facebook or join the mailing list.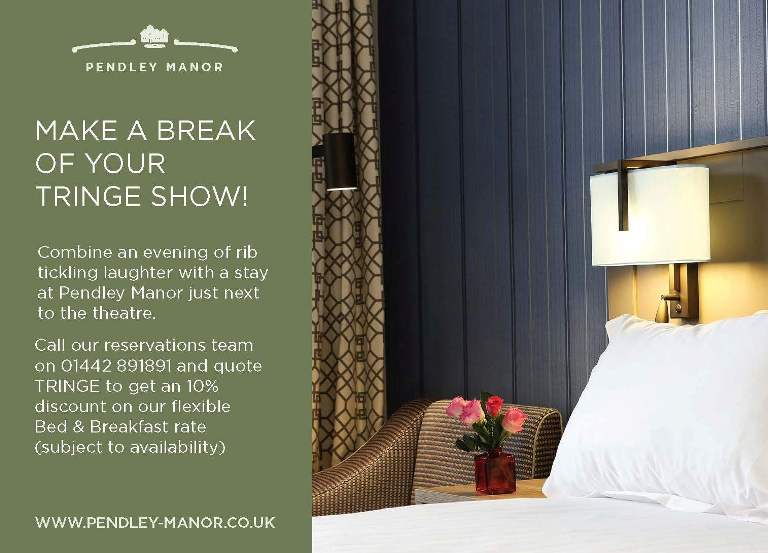 ---
Line up subject to change. We will endeavour to replace acts on a like-for-like basis. In the event of a line up change, you will be offered the option to either reconfirm your order for the altered event, to exchange to a different event or to take a credit note for a future event. Due to the preview nature of the event, refunds will not be available.